What a busy few weeks I have had - but we did it - it's done - the wedding was wonderful!
It has been very difficult for me to keep up with my blog, mostly because all the things I have been doing i wanted to keep secret so as not to ruin any surprises one the day.
There was of course one project which was strictly top secret which I am now very very excited to share - My wedding dress!
My starting point was finding a pattern i liked. I know that i can make my own patterns, but i decided i wanted a vintage style and find that using an old pattern gives a much more authentic shape and fit - there's something about the way they are cut which i just can't seem to replicate.
I also had in my mind that i wanted a little over layer on the top. I had seen a dress in a flea market which had this and i thought was just really nice. But apart from this I didn't really have any other criteria. I thought it would be hard to settle on a design as there are so many lovely ones on offer, but as soon as I saw this one i knew it ticked all the boxes (also I knew as hard as it was, i had to be bold and go for it!) Simplicity 6227 from 1965.
I thought this would give me quite a lot of options too as wasn't sure if i wanted a full length or knee length, but I had my eye on view 3, you can see top right.
It's a very simple design, with a straghtforward dress (as you can see in view 2 bottom middle) with a pretty little blouse and over skirt layer to finish it off (in lace for me) Perfect for our simple little town hall wedding.
I had a bit of a panic to begin with as the original pattern i bought had the pieces for the blouse missing! The seller was wonderful about it, but it was a bit of a mission to find another in the same size - luckily I managed to find a size 11 and a half - strange but close enough!!
The next big task was finding the fabric. I found a wonderful website -
Platinum Bridal Fabrics
. They have such a huge range of the most wonderful lace. I learnt a lot about the difference between a corded lace and a chantilly lace, and all the other varieties too. I ordered
many samples
but it really was hard to know what to do as they all seemed to be so different, and it was hard without seeing a large piece to know how the pattern would repeat and how the fabric would drape. I loved the corded laces as they were just so beautiful, but after not really finding one that was quite right for my dress, I cast my search a little wider and came across one sample called
Melissa
, a laser lace, which means it is made up of little fabric shapes sewn onto a tulle background. This one was sewn on with silver thread and was such a pretty design -although much different in style to the corded laces, I really had a good feeling about it.
I put together my toile and was SO pleased - it was the most perfect fit (except for a little alteration at the neckline) and this was such a useful task to help me work out how i was going to arrange my overlayers, and which fabrics to use with the lace. I tried a bit of chiffon and organza but decided to go for a layer of silk tulle over and under the lace on the skirt to give it a bit more presence, and a lovely soft romantic look.
The toile and mock up of over skirt - complete with lace - i was very excited for this glimpse of what would be!
For the under dress I decided on ivory dupion, and lined with silk habotai. and even the tulle i used was silk. All silk! It was very lovely to be so indulgent. I remember
showing you the package
when it arrived, and was dying to share the contents and now i can! I loved draping this about - although was a little bit shy with it to begin with - so beautiful and so white (ivory!)
So beautiful - the perfect uncut fabric - it arrived on the roll!! - so special.
the pattern pieces ready to cut out - a nice simple one.
There was a little 'bump' in the road though, as just after i had made up my underdress and the over skirt I found out that we are going to have a BABY (so much joy!) I did shed a few tears over my dress i will admit (but also i was feeling sick and sorry for myself probably), and was unable to look at it for a few weeks, not just because I was sulking, but also for practical reasons - I didn't really know what needed to be done! I safely reached 12 weeks though and had got over the shock and although was nearly 18 weeks pregnant on the big day, I only needed very minor alterations - just enough to let out the seam allowances a the waist, and I did alter my overskirt so it was a little more streamlined than the original, and not so ballooning (I felt like a bit of a marshmallow originally!) I was lucky that the dress did have plenty of space around the tummy - it was just the waist that I needed to hope wouldn't expand too much - everyone was helpfully suggesting i elasticate it but it was too late for that! I think the wedding came at the perfect time though - not just because it was the most wonderful blue sky day, but also just because the dress was still so comfortable - i think a week later and it might have been a squeeze.
And so here are some pictures for you of the finished dress. It is so lovely to have it revealed now. I know it doesn't look exactly the way it would have without the tummy (no cinched in waist here!) but this is the way it was meant to be an I am so pleased with how it looked on the day - it did seem to have bump reducing properties and although i think if i had known i would be pregnant before i had started the dress, i would have chosen a different design completely, it was actually wonderful that i didn't as this was perfect and very flattering - and had i known i probably wouldn't have been brave enough to go for it
final nervous moments before the ceremony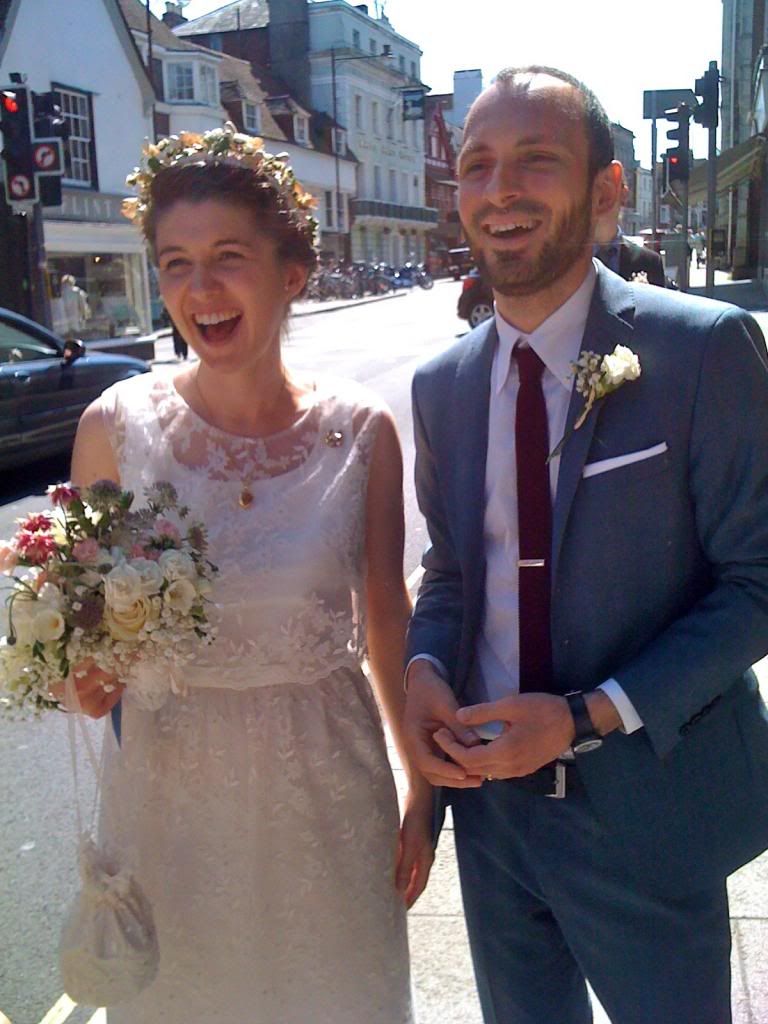 Merrily Marriedly yours,
Emilia. xx